The engagement ring industry is undergoing a dramatic transformation with the introduction of blockchain and cryptocurrency. As couples prepare to take that all-important step into married life, they are increasingly turning to digital currency as an alternative way to purchase their rings.
This article takes a look at how blockchain technology and cryptocurrencies are changing the traditional methods of buying bridal jewelry, and how this shift could revolutionize the entire industry. From greater transparency in pricing to security from fraud, find out why more people are choosing crypto over cash when it comes time for saying I do.
The Rise of Crypto-Bling: How Blockchain is Transforming the Engagement Ring Market
In the past, engagement rings have had a long-standing tradition of signifying love and commitment. However, the rise of cryptocurrency is transforming this traditional industry by introducing a new form of payment – crypto-bling. By utilizing blockchain technology to secure transactions, consumers are now able to purchase diamond rings with digital currency instead of conventional methods such as credit cards or cash.
The advantages that come with paying in cryptocurrency for an engagement ring are numerous; most notably its security and privacy features. As all transactions conducted through Bitcoin and other cryptocurrencies are recorded on a public ledger known as "the blockchain", it makes it almost impossible for fraudsters to access personal information or steal funds from customers. Furthermore, users purchasing jewelry items can also benefit from reduced transaction costs due to fewer third parties involved in processing payments compared to conventional forms of payment like credit cards.
But beyond these financial benefits comes another exciting prospect – allowing people who may otherwise be unable to afford luxury goods such as diamond rings the opportunity to purchase them using their own money without having to rely on more traditional forms of finance. This opens up possibilities for couples looking for something special yet affordable when sealing their commitment together with an unforgettable piece of jewelry that has been bought using crypto-bling!
Cryptocurrencies have certainly changed the way we pay for things but they're also changing how we shop too; providing customers with greater choice by bringing global retailers into local markets via e-commerce platforms like Etsy or Amazon which accept digital currencies alongside conventional ones. This gives buyers access not only to unique pieces handcrafted around the world but also offers competitive prices due to lower overhead costs than those associated with physical stores or boutiques located within certain areas alone. The engagement ring market is just one example where blockchain technology is revolutionizing how products can be bought and sold securely – but there's still much more potential waiting in store! It won't be long before every aspect of our lives will begin incorporating this revolutionary technology so stay tuned…
Cryptocurrency and the Bridal Industry: Exploring the Ways Digital Currency is Impacting Wedding Rings
In recent years, the bridal industry has seen a surge in the use of cryptocurrency when it comes to purchasing engagement rings and wedding bands at engagement rings manchester. This new form of payment has opened up many possibilities for couples looking to exchange and purchase these pieces of jewelry with ease. From increased security features that make payments safe and secure to an array of different digital currencies accepted, there are many ways that cryptocurrency is impacting the engagement ring industry.
One way that this technology is changing how people shop for their wedding rings is by providing more options than ever before. Because transactions made using cryptocurrencies can be processed quickly and securely from anywhere in the world, customers have access to international jewelers they may not have had access to otherwise. This means they can find unique styles or even purchase custom-made rings without having to worry about long wait times or high shipping costs associated with traditional methods.
Cryptocurrency also provides consumers with greater transparency when shopping for their perfect ring. By being able to track each transaction step-by-step through blockchain technology, shoppers can feel confident knowing where their money goes every step of the way, giving them peace of mind as well as more control over how much they spend on their special day's gift. Additionally, because all payments are encrypted using advanced cryptography techniques such as elliptic curve encryption (ECC), users don't have any worries about fraudulent purchases or data breaches while making a purchase online either—making it one of safest ways available right now for exchanging value between individuals across borders both domestically and internationally alike!
Overall, cryptocurrency brings forth a whole range of possibilities within the bridal industry which makes finding just what you need easier than ever before – enabling couples around the globe to build lasting memories together through beautiful pieces crafted specifically just for them!
A Bride-to-Be's Guide to Buying an Engagement Ring with Bitcoin
As the engagement ring industry embraces cryptocurrency, brides-to-be now have a modern and secure way to purchase their dream rings. Bitcoin is becoming increasingly popular as an alternative payment method for buying engagement rings, with many stores offering discounts when paying with this digital currency. With its low transaction fees and near-instant processing times, its no surprise that more couples are opting to use Bitcoin when purchasing their perfect symbol of love. For those unfamiliar with using Bitcoin or other cryptocurrencies, there are some important points to consider while shopping for an engagement ring.
Knowing what type of wallet to use and how much you should spend on your ring can help ensure a smooth and successful transaction. Additionally, understanding the security benefits of using cryptocurrency versus traditional fiat currencies will help make sure your purchase is safe from potential fraudsters or hackers. When selecting which type of wallet you'll use for your purchase, research different options before making a decision; each has its own advantages and disadvantages depending on individual needs such as security features and ease of user interface design. It's also important to consider whether youre looking for short-term storage (for frequent transactions) or long-term storage (for larger amounts).
Once these factors have been taken into account you'll be able to determine which type best suits your needs while shopping online for an engagement ring – desktop wallets offer greater control over private keys but require downloading software whereas mobile wallets offer better portability but lack certain security measures in comparison with web wallets like Coinbase or Blockchain Wallet. It's also imperative that couples set themselves a budget before they begin searching for their ideal engagement ring; this helps prevent any unexpected surprises at checkout time!
Consider all available options within different price ranges so that both parties are happy when it comes time to pay – remember that not only do prices vary between stores but they may also offer discounts if paid in crypto too! Ultimately by researching the current market value of diamonds based upon cut quality grade size etc., brides-to-be can find themselves a great deal without compromising style or quality – ultimately leading them down the aisle feeling totally confident about their choice!
Smart Contracts in Weddings: How Blockchain is Streamlining the Purchase of Engagement Rings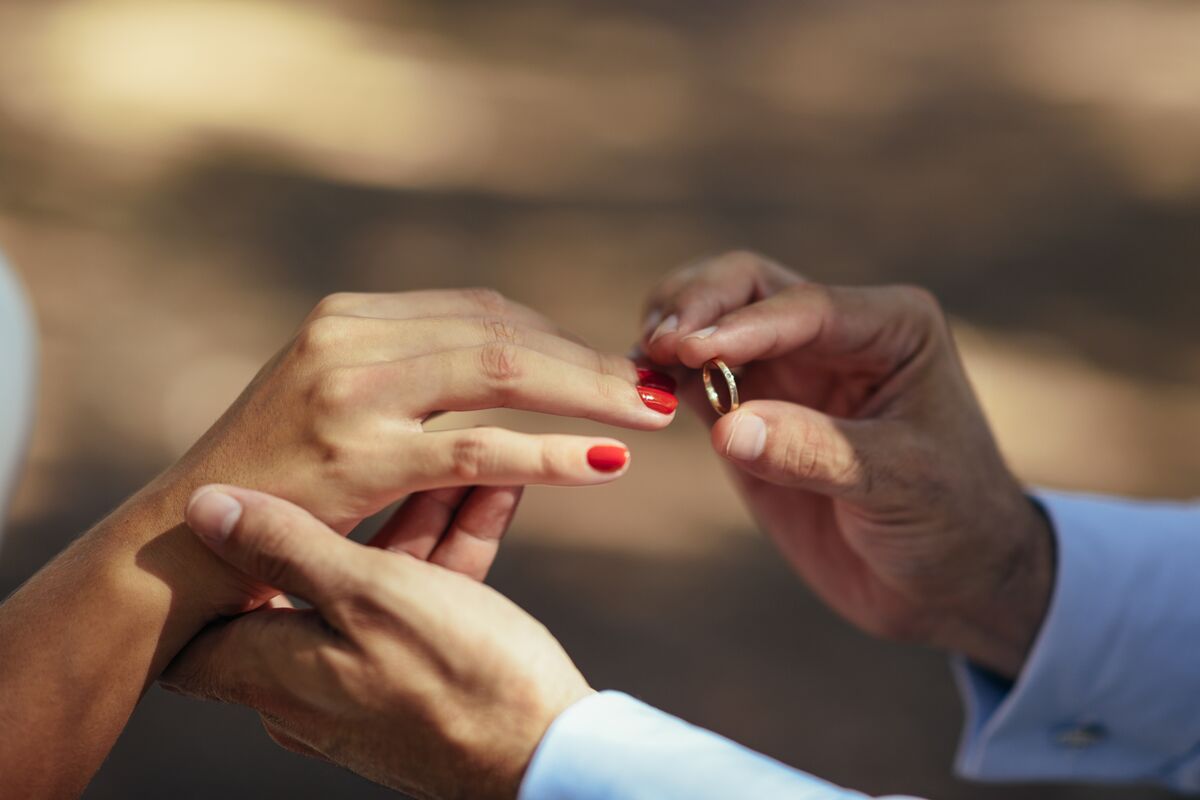 The engagement ring industry is being revolutionized by the introduction of blockchain technology and cryptocurrency. Smart contracts are enabling consumers to purchase engagement rings more quickly, securely, and cost-effectively than ever before. By leveraging blockchain's immutable ledger, couples can now trust that their purchases are recorded accurately and securely with a single click of a button.
Furthermore, smart contracts allow for an instant transfer of funds from the buyer to the seller without any intermediary or third-party involvement – making it easier than ever for couples to buy the perfect engagement ring! The use of smart contracts also makes it possible for couples to customize their own unique wedding rings online in real time based on their individual preferences and budget.
As such, blockchain has made the process of purchasing an engagement ring much simpler and more efficient – allowing couples to spend less time stressing about finances so they can focus on planning the special day itself instead!